Vidne, offer eller sigtet
Landsretten

Der er to landsretter i Danmark – Vestre Landsret og Østre Landsret.
Vestre Landsret ligger i Viborg og behandler sager fra Jylland. Østre Landsret ligger i København og behandler sager fra resten af landet, Færøerne og Grønland.
En tiltalt har i Danmark som udgangspunkt krav på at få sin sag prøvet ved to forskellige retsinstanser. Når en sag er afgjort i byretten, kan den derfor normalt ankes til landsretten af enten den tiltalte eller anklagemyndigheden. Sagen kaldes herefter en ankesag. Anken kan omfatte skyldsspørgsmålet (om den tiltalte er skyldig i den rejste tiltale) og/eller strafudmålingen (hvilken straf den tiltalte skal have).
I nogle sager medvirker domsmænd, i andre sager nævninge.

Læs mere om de to typer sager.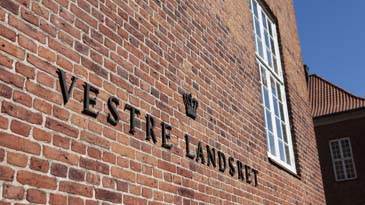 Når de forskellige deltagere i en straffesag mødes i et retslokale i landsretten for at behandle sagen, kaldes det for hovedforhandling. Her kan du læse mere om, hvordan hovedforhandlingen i en straffesag normalt foregår.